October 1998 Newsletter
President's Message || MCDS Board of Trustees / Committee Reports || Treasurer's Report Detail
NJDA News || NJDA State Board of Trustees Report
Articles || Announcements || Editorial
---
President's Message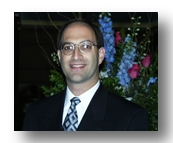 Many of our members in attendance at the September general membership meeting commented to me that it was a terrific meeting. For the second year in a row, the officers and the Board of Trustees decided to modify the format of our September meeting to provide an extended social hour with wine and hors d'oeuvres in lieu of a business meeting. This allowed us time to catch up with many of our old friends after the summer, and also gave us the opportunity to make some new friends. The conversations during the social hour were loud and continuous.
This led me to think of the best reasons to belong to the Middlesex County Dental Society. Perhaps it is the convenient, high quality, readily available, diverse, continuing education opportunities. Perhaps it is the comfort in knowing that we belong to the group that is representing our special interests as dentists in the political and public arenas. But perhaps the most important reason is the camaraderie - the ability to share experiences and learn from each other in a non-threatening environment - the ability to discuss "the good, the bad and the ugly" about our profession with a colleague that truly understands - the ability to speak informally with colleagues about difficult situations, cases and patients - the ability to be yourself and speak freely without needing to explain what you do, why you do it and how much you charge for it - because we all understand.
I certainly enjoyed the September meeting and look forward to many opportunities this year to spend time with my friends and colleagues. In addition to our monthly general membership meetings, there will be our monthly Board of Trustees meetings (all interested members are invited to attend), numerous mentor committee programs and our all-day continuing education seminar. But perhaps the most enjoyable event of all will be our dinner dance on Saturday evening, April 17, 1999. An evening of good fun, food, drink, music, dancing...and camaraderie. I hope to see you there.
Sincerely,
Ira S. Rosen, D.M.D.
President, Middlesex County Dental Society

MCDS Board of Trustees Report
-May 12, 1998-
Attendance: Bloom, Brunsden, Clemente, DeSciscio, Engel, Fahsbender, Fertig, Kahn, Kline, Krantz, Leizer, Perlmutter, Prabhu, Rosen, Silverstein, Villa, Weiner
Acceptance of Minutes-6/9/98-Unanimous
Treasurer's Report: Previous Balance $40,324.04
P. DeSciscio, Treasurer Income/Expenses + 8,286.77
Current Balance $48,610.81
President's Report-I. Rosen
Dr. Sterritt is stepping down from the Governor's Council on AIDS and a replacement is needed. This position requires a commitment of about one Wednesday per month. Interested members should contact Dr. Rosen.
NJDA Council Reports:
NJDA Board of Trustees-D. Krantz
See full report in the newsletter.
Annual Session-P. Engel
There were about 20% fewer people at this year's Annual Session, but still came out ten thousand dollar profit was realized from the exhibitors fees. Next year the Annual Session will be held the weekend before Memorial Day weekend at the Atlantic City Convention Center.
Special Olympics-C. Brunsden
Eight corporate sponsors will fund this year's NJDA sponsorship for the New Jersey Special Olympics. There will be 300 billboards going up around the state showing NJDA's support, eighty of which will be going up this month. Member dentists will receive promotional materials to display in their office at no cost. Voluntary donations will be accepted.
ADA Trustees Report-J. Leizer
The ADA meeting will be held October 24th-28th. Among the issues to be decided upon are the following:
The proposed national public awareness campaign, which will cost members $300/year for the next three years and the potential impact on membership.
An independent financial firm recommended that the ADA's available reserve account be increased to 45% of their annual operating income to be financially sound. In order to achieve this, dues would be increased to make this contribution to replenish the fund according to a schedule. The proposed schedule is $18 for the first year, $12 in the second year, and $15 for the third year.
Other dues increases would include a $2 increase for programs and a $62 increase for the next three years for asbestos abatement in the Chicago ADA building.
New Dentists-M. Weiner
Dr. Weiner and Dr. Prabhu are having resident's lunches at Robert Wood Johnson and JFK to encourage residents to join the association, attend meetings, and to get on the newsletter list. The Council will be sponsoring a lecture for New Dentists, "Office Lease Negotiations" which will be co-sponsored with the Mentor Committee.
Children's Dental Health Month-C. Brunsden
This year's program is titled, "A Great Smile is Always in Fashion". Activities will include the school poster contest, Nurse's Night, and "A Day at the Circus".
Peer Review-J. Fahsbender
Three cases have been examined. Two were resolved, and one is still active. There will be articles contributed to the newsletter about topics that often come up in peer review cases. New certified peer review members are needed; there is a certification meeting in October. Interested parties should speak with Dr. Fahsbender.
Budget Committee-J. Perlmutter
A proposed budget was discussed in August and will be presented to the NJDA Board of Trustees and will be voted upon at the House of Delegates.
MCDS Committee Reports:
Membership Committee-N. Villa
The drop list was reviewed, and 19 members were listed. Some may be erroneous, and these members will be contacted to inquire about their status.
Continuing Education Committee-P. Engel
An all day course will be presented for dentists and staff on April 21, 1999 featuring Gary Takacs on "Getting Paid-Changing Strategies for New Times". This will be tied in with the April 20th dinner meeting, where information will be given to the members on staff related issues. Gary Takacs will be arranging the corporate sponsors at the same rate as those that came to the last all-day course. A motion was made and seconded to send a deposit to retain Gary Takacs for this lecture. Vote was unanimous.
Mentor-E. Glickman
The next OSHA seminar has been scheduled for Thursday, November 5, 1998 at St. Peter's Hospital.
Editor's Report-M. Weiner
All courses will be combined with the regular program on the front of the newsletter. The Princeton Insurance ad will continue to run through the end of the year. All items for the October newsletter must be in by September 15th so that it gets mailed by October 6th.
Website-R. Silverstein
More pictures are needed for the website. Also, items that are not in the newsletter are welcome to be published on the web-site.
Program-N. Villa
The dinner meeting program is printed in the September newsletter. The September meeting will offer an extended cocktail hour without a business meeting. Any announcements will be made at the dinner hour. The March lecture has been designated as the Sy Symanski Lecture for the year.
Corporate Sponsorship-J. Chustckie
Last year's sponsors have already been contacted for this coming year. A meeting will be arranged prior to the next board meeting to discuss pricing and multi-event packaging. Everyone involved in sponsorship will attend. Also, Dr. Chustckie will need one or two people to help with sponsorship tasks. Dr. Ross Kline volunteered.
Dinner Dance-H. Habas
The dinner dance committee met over the summer, and the Brunswick Hilton Atrium has been reserved for April 17, 1999 for this event. There will be more advertising and information about the dance starting in October's newsletter.
New Business
Budget-After review of a three-year treasury report, we found that we are keeping pace with our expenses. In the past year, there were several one-time additions to the account, including the Sy Symanski Lecture fund. It was recommended that a five-year treasury report be reviewed in two years to reevaluate our finances and dues structure.
Constitution & Bylaws-Numerous changes were discussed, which will be presented to the board and then the membership for approval.
Library Tapes-There are three additions to the St. Peter's video library; a multi-volume set on esthetic dentistry by Larry Rosenthal, a video on the anesthesia wand, and a CD-ROM by Dr. Steven Seltzer.
Good & Welfare
Congratulations to Dr. Bruce Huberman on the birth of his daughter, Max T. Huberman, on September 7, 1998.
Respectfully submitted,
Ira S. Rosen, DMD
On behalf of
Bruce Huberman, DMD, Secretary

Treasurer's Report
October 1, 1998
Peter L. DeSciscio, DMD, FAGD
Previous Balance
(9/1/98) $40,324.04
Income/Expenses
(9/1/98 - 9/30/98) $14,802.59
-6,515.82
Current Balance
(9/30/98) $48,610.81
Profit & Loss Statement
9/1/98 Through 9/31/98
Income:
Total $14,802.59
Expenses:
MCDS Board Meeting (Catering) $1,943.81
Printing (Staff Nite Program) 94.95
AV Equipment (Repairs) 12.99
Seltzer Course 9Catering) 2,471.50
Phone 89.27
MCDS Dinner Dance (Deposit) 1,500
Component Liability Ins. 313.30
Secretarial 60.00
Refund (Staff Night) 1,831.82
Total Expenses $6,515.82
Total Income/Expense $8,286.77

NJDA News
State Board of Dentistry Report
The State Board did adopt a proposed regulation on fee sharing and fee splitting which will affect arrangements with management companies, marketing plans, employed dentists and others. The State Board was asked about independent contractors. It was stated that a dentist can share fees with employees and with partners but cannot share fees with independent contractors. Additional information on this subject will be published in the next Capsule.
Executive Director's Report
Mr. Cocuzza informed the Board that we recently met with representatives from the Dodson Group. Dodson is the parent organization that operates Casualty Reciprocal Exchange (CRE) which is the underwriter of NJDA's endorsed worker's comp insurance. They informed us that there was a recent decision by the New Jersey Supreme Court that ruled that insurance coverage exists under the employer's liability section of a worker's compensation policy for claims of workplace sexual harassment when the harassment results in bodily injury. Since the ruling, there have been seven claims filed with Dodson, four of which involve dentists. Due to the need to reserve properly for these claims, you can anticipate an increase in the premium in the near future.
Legal Counsel's Report
A new PIP fee schedule is expected to be published in June

NJDA Board of Trustees Report
Components societies are not allowed to separately post minutes of the State Board of Trustees Report. You can now find the reports at http://www.njda.org/member/board_minutes/index.html.

Articles
PEER REVIEW. . .
NJDA Working For You
By Dr. John Fahsbender

Each month an article addressing the Peer Review system will appear, to better answer some common questions regarding this valuable service. What is Peer Review? It has been a program instituted since 1974 whose purpose is to serve both the profession of dentistry and the public. It may involve a dentist/patient problem, or a dentist/third party payer problem. Its objective is to handle these problems in a fair, speedy and objective manner. Peer Review deals with only two areas:
1. Appropriateness of Care: Was the service provided by the dentist necessary?
2. Quality of Treatment: Did the treatment rendered by the dentist adhere to a series of guidelines and parameters as to what constitutes acceptable care?

Each dentist on the committee is a volunteer. They are selected based upon their willingness to serve, their objectivity, their area of specialty and their experience level.

Peer Review is binding arbitration. It is voluntary. The decision arrived by the committee is binding under the laws of New Jersey. Both the patient and the dentist sign consent forms agreeing to resolution through the committee. They then waive their rights to settlement in a court of law.

Next Month: MEDIATION- The First Step.
---
Be Careful What You Say . . .

"Yes, the President should resign. He has lied to the American people, time and time again, and betrayed their trust. He is no longer an effective leader.

Since he has admitted guilt, there is no reason to put the American people through an impeachment. He will serve absolutely no purpose in finishing out his term. The only possible solution is for the President to save some dignity and resign."

William Jefferson Clinton -1974
on President Richard M. Nixon
---
. . . BREAKING NEWS . . .
The Sweet Smell of Victory for NJDA
Good news on the legislative front! The Prompt Payment Bill cleared the Assembly Banking Committee. NJDA prevailed in spite of a strong Insurance Lobby. This Bill mandates insurance companies pay claims within 30 days (17 days for electronic claims), any irregularities must be reported within 14 days. The Bill will be posted in a Senate subcommittee chaired by Senator Sinagra and should receive favorable attention.
Harmon R. Katz, ADPAC

The Paradox of Our Age . . .
We have taller buildings, but shorter tempers; wider freeways, but narrower viewpoints; we spend more but have less; we buy more but enjoy it less. We have bigger houses and smaller families; more conveniences but less time; more degrees but less sense; more knowledge but less judgement; more medicine but less wellness. We have added years to our life not life to our years. We've been to the moon and back but have trouble crossing the street to meet the new neighbor. We've learned to rush but not to wait; we have more acquaintances but fewer friends. We build more computers to hold more information but have less communication. We have become long on quantity but short on quality.

Source: St. Louis Dentistry, August/September 1998
---
Excerpt from District #4 ADA
Rep. Dr. Hank Finger's
Report to Members

The Board-generated resolutions being forwarded to the house still include a proposed dues increase of $82, including $2 to offset a deficit in the proposed 1999 budget, $18 to begin increasing the Association's reserves to the level recommended by an independent consulting firm, and $62 to fund the renovation (including asbestos removal) of Association-occupied areas of the headquarters building that have not yet been renovated. Of course there also will be a separate resolution on the proposed public awareness campaign that has a major financial implication. The national member survey on this proposal is almost completed and we will discuss all these financial issues at length at the September caucus because I have some serious concerns about impact on membership.


Announcements
It's Time for Another
Dinner Dance
Saturday
April 17, 1999
---
In Memoriam
MCDS Executive Council and Membership extend their condolences to:
Dr. Martin Kaminker and Dr. Roger Parlow
on the passing of their fathers
---
NJ Department of Labor Offers On-Site Consultation Program

The NJ Department of Labor's Division of Public Safety and Occupational Safety and Health offers a host of free services to help New Jersey employers provide a safe and healthy place to work.

Our On-Site Consultation program helps medium-sized private sector employers identify and correct potential safety and health hazards - at no charge to you. Upon your request, occupational safety and health consultants will inspect your company's facility or work site. Consultants do not issue citations or penalties for violations found; however, the employer must correct any hazard within a specified period of time. Under the Safety and Health Achievement Recognition Program (SHARP), our safety and health consultants can help you obtain an exemption from routine OSHA inspections.

We can advise you how to develop health and safety programs and form safety and health committees.

To learn more about the On-Site Consultation program, call 609/292-0404 or 609/984-0785, or FAX your information request to 609/292/4409.
---
Don't Forget
A valid ADA membership card from a MCDS member is all that is needed to access the extensive video collection located at St. Peter Hospital Library. (Hundreds of current dental videos are available).
---
CDC Posts Oral Cancer
Prevention Recommendations

"Preventing and Controlling Oral and Pharyngeal Cancer: Recommendations from a National Strategic Planning Conference" is now available at the web site of the Centers for Disease Control and Prevention (CDC), http://www.cdc.gov/necdphp/oh, under "What's New." A limited number of hard copies are available by calling CDC at 1-700-488-6073.

The report is based on a conference held two years ago in Chicago and cosponsored by the ADA and the CDC. The conference, which resulted in a 60point action plan on how best to stem and treat oral cancer, led to a follow-up meeting in 1997, at which participants in an Oral Cancer Roundtable listed 10 recommendations that should be given priority in implementing a national plan for preventing and controlling oral cancer

Source: ADA ONLINE New Daily, September 1, 1998
---
WELCOME
NEW MEMBERS
CHARLES AVRUTIK
CARL CHAITYN
AUGUSTINE JOHNSON
SUSAN KRUTYANSKY
SUHAIR RAHIM
VINCENT ROMANO
ARVINDER SINGH
RICHARD STERN
EDWARD SUCHORA
IRINA TRAKHTMAN