On January 21, 2003, the following Life Membership presentations were made by NJDA President Dr. Maxine Feinberg:
Donald B. Bershtein, DDS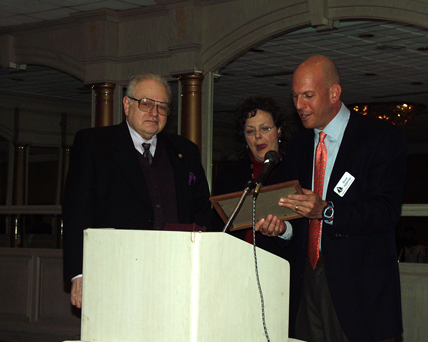 Graduated from Temple University with a BA Degree in 1957. Received his DDS Degree from the University of Pennsylvania School of Dental Medicine in 1962. He received an ROW commission in the Artillery branch of the Army in 1957 and served 1957-1958. After graduating from dental school, he served as a Captain in the Army Dental Corps (1962-64). After practicing in Old Bridge and New Brunswick, he started his own general dental practice in North Edison in 1965 that he remains active in today. He has received recognition from the AGD for achieving Fellowship Status (1972), Mastership Status (1981) and Emeritus Status (2002). In addition, he achieved Fellowship (1990) and Mastership (1997) in the American Endodontic Society. He completed a two-year residency in facial pain and TMJ Dysfunction (1987-88) and advanced studies in Craniomandibular Disorders at Philadelphia College of Osteopathic Medicine. He has been an Associate Attending at JFK Medical Center from 1964-Present. He is a Diplomate of the American Academy of Pain Management (1997) and American Board of Forensic Dentistry (1997). He has achieved numerous distinctions and Society memberships too numerous to mention in this limited forum. He had been married for the past 41 years to Marcia and has three children (Bruce, Martin and Karen) and three grandchildren (Ilana, Alex and George).
---
Stanley Cohen, DDS
Graduate New York University College of Arts and Science,1959, New York University College of Dentistry 1963.
Captain in US Army Dental Corps, 1963-1965. Post Preventive Dentistry Officer; VIP Officer. US Army reserves; 1965-1968.
Professional Organizations include, American Dental Assn.; Life Member Status 1999, New Jersey State Dental Assn; Middlesex Dental Society.
Board Certification; National Boards 1963; and again 1997.State Boards New York State, New Jersey and F1orida.
Dental Affiliations; Academy of General Dentistry, National Assn. of Dental Practitioners, Academy for International Medical Studies, American Academy of Cosmetic Dentistry, Inter-national Assn. Orthodontics, International Ass. of Orthodontic Study Groups, Royal Society of Health and Dental Arts Study Group (Past president)
Listed: Marquis Whos' Who 1977-1988, 1981-1982
Guest lecturer Indian Dental Society, New Delhi India (1999) Assorted presenter of clinics, demonstrations, etc.
Married 42 years to Joan. Have 4 children and 5 grandchildren.
Hobbies include, travel, jogging, swimming, tennis, painting and boating.
In active practice in East Brunswick for 38 years plus(2 years) in military.
---
Saul Frechtman, DDS, FAGD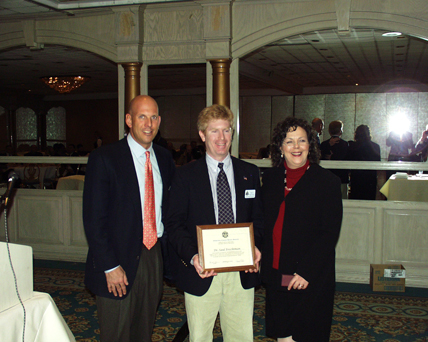 Dr. David Frechtman accepts the certificate for his father
Graduated N.Y.U. Dental School 1964
Served in the US Army Dental Corps from July 1964-Mar 1967.
Started private practice Aug, 1967 and now practice at 98 James St., Edison, NJ
Completed 2 year certificate program in TMD and Orofacial Pain at U.M.D.N.J 1989-1991.
He has been teaching at the School of Practical Philosophy in New York City. This philosophy program aids in transcending the mechanical routine of every day life, allowing one to let go of worry, doubt and fear.
He currently lives in Metuchen, NJ with his wife Jacqueline. They have two children, David, who practices dentistry with him, and Julie, who also lives in Metuchen, and has two lovely children.
Leon Friedman, DDS
1963 graduate of Maryland-Baltimore College of Dentistry, in active practice of general dentistry in Piscataway.
---
Paul Gilbert, DDS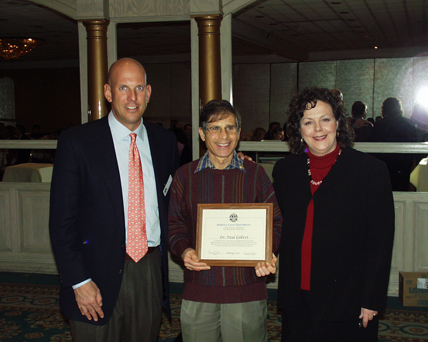 Graduated with his DDS Degree from the University of Pennsylvania School of Dentistry in 1962. He is involved in the active practice of general dentistry in East Brunswick. Dr. Gilbert has been practicing mercury-free dentistry for more than 25 years and takes great pride in his practice mission: to provide mercury free, contemporary, esthetic, non-toxic, long lasting, biologic dentistry, in a warm and caring environment. He has achieved both Fellowship and Mastership Status in the AGD and in 1999, he was invited to become a member of the prestigious Tucker Gold Study Club. He is a member of the Foundation for the Advancement of Innovative Medicine, The National Center For Homeopathy, The American Institute of Homeopathy, The International Academy of Oral Medicine and Toxicology, Dental Amalgam Mercury Syndrome, The Holistic Dental Association, The International Dental Health Foundation, and Consumers for Dental Choice. Dr. Gilbert has been an active member of the Brunswick Dental Study Group since its inception some 30 years ago.
---
Harmon Katz, DDS
Graduated Temple University Dental School in 1961. Served in the U.S. Army Dental Corp. In the limited practice of Endodontics from 1963 – Present. Past president of Middlesex Dental Society, New Jersey Dental Association, the New Jersey Endodontic Association and The American Association of Endodontics. Chairman of Endodontics at Robert Wood Johnson University Hospital.
Dr. Katz has been involved in health care legislation and has chaired the Government Affairs committees of the New Jersey Dental Association and the American Dental Association.
Dr. Katz has held teaching positions in Endodontics at Temple University and Columbia University. He is currently serving on a Task Force of the American Dental Association to deal with the growing shortage of Dental Educators.
Dr. Katz resides in East Brunswick with his wife Elaine. He has two children, Sherri and Douglas (who is also an Endodontist), and four lovely granddaughters.
---
David I. Moss, DDS
1965 graduate of UMDNJ, practiced general dentistry, retired.
Bernard J. Orlowski, DDS
Graduated University of Maryland 1960, Orthodontic Certificate from Columbia University 1963
U.S. Army Orthodontist in W. Germany 1963-1966
Orthodontic Practice 1966–Present in Woodbridge, NJ
Married 42 years with 2 daughters and 4 grandchildren.
---
Thomas H. Paterniti, DDS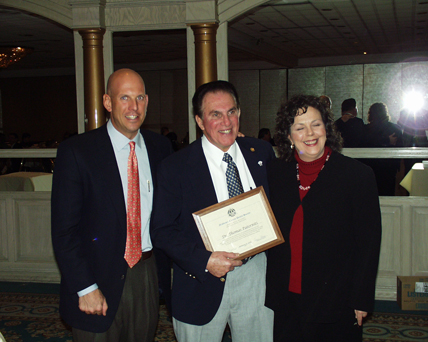 Graduated from Seton Hall University (Senior Class President) with a BS in Chemistry. Received his DDS from University of Maryland in 1956. He served in the US Army with the 7th Division, 31st Light Infantry- 14 months in Korea. He has an active practice in General Dentistry in Metuchen and has been a longstanding member of the Dental Staff of JFK Hospital (Past member of JFK Board of Trustees). An active participant in state and local politics throughout his career, Dr. Paterniti has served as Mayor of the Township of Edison (1974-78 and 1990), NJ State Assemblyman (District 18- 1980 through 1987), and NJ State Senator (District 18- 1988 through 1991). In addition, he is the Past President of the Edison Township Library Board of Trustees, the Metuchen Chamber of Commerce, and the Metuchen Rotary Club as well as Chairman of the Middlesex County March of Dimes Campaign and Chairman of the Board of Central New Jersey March of Dimes. He has been involved in political activities, civic participation, achieved legislative milestones, and received awards too numerous to mention in this brief bio. A lifetime resident of Middlesex County, NJ, he is married to the former Helen Soltesz and the father of four children- Maria, Thomas, Lisa and Donna.
---
Stephen D. Sklans, DMD, MSD
Graduated Cum Laude from Tufts University School of Dental Medicine in 1962. Oral Surgery Intern, 1962-63, Bellevue Hospital Center, New York City. Returned to Tufts in 1963 on an NIH Research Fellowship in Oral Surgery and Oral Pathology, which culminated in receiving an MSD degree in 1966. Served as Chief Resident in Oral and Maxillofacial Surgery at Boston City Hospital during 1965-66.
In August of 1966, Dr. Sklans entered private practice in Edison, specializing in Oral and Maxillofacial Surgery. He continues full-time practice as the senior member of Edison-Clark Oral Surgery Associates. Dr. Sklans was one of the founding members of the Department of Dentistry at JFK Medical Center where he served as chairman of the department for two separate full terms. After becoming a diplomate of the American
Board of Oral and Maxillofacial Surgery, he became an Associate Clinical Professor at Farleigh Dickinson Dental School, first as a member of the Department of oral Pathology and then in the Department of Oral Surgery. He was also an Assistant Professor in the Department of Surgery at Albert Einstein College of Medicine where he taught Applied Surgical Anatomy to the Oral Surgery residents of Montefiore, Lincoln and Bronx Municipal Hospitals. During his early years in practice he taught as an instructor in the Department of Anatomy at Rutgers Medical School.
Dr. Sklans is a past president of the New Jersey State Society of Oral and Maxillofacial Surgery, as well as the New Jersey Chapter of the American Academy of Oral Medicine. He is a member of the American Dental Association, the New Jersey Dental Association, Middlesex County Dental Society, American Society of Oral and Maxillofacial Surgery, New Jersey Society of Oral and Maxillofacial Surgery and the American Academy of Oral Medicine. He is a fellow and is boarded by the American Dental Society of Anesthesiology and its New Jersey Chapter.
Dr. Sklans lives in Edison with his wife, Trudy. They have a son and a daughter and two granddaughters. He enjoys golf, trout fishing and photography.
---
Marvin Solomon, DDS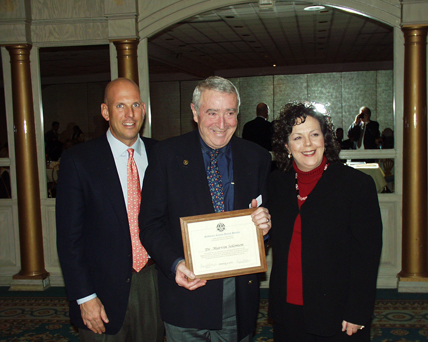 Dr. Marvin Solomon attended Fairleigh Dickinson University Dental School where he earned the degree of Doctor of Dental Surgery. Following dental school, Dr. Solomon served for two years in the United States Army Dental Corps. as a Captain. Dr. Solomon continued his training in a periodontal residency program at Columbia University's College of Physicians and Surgeons, where he earned his specialty certificate in periodontics. He then served as an adjunct associate professor at Columbia in the post graduate periodontal department. Dr. Solomon is a member of the American Dental Association, American Academy of Periodontology, New Jersey Society of Periodontists, the Northeastern Society of Periodontists and the American Academy of Osseointegration. He is chief of the periodontology section at Robert Wood Johnson University Hospital, is a Diplomate of the American Board of Periodontology, and has served as president of the New Jersey Society of Periodontists.
Dr. Solomon practices in East Brunswick and limits his practice to periodontics and implant dentistry. Dr. Solomon is married, has two children and is active in his community. His hobbies include skiing, golf, biking and traveling.